Volunteer
Your time and effort is everything. Take action - no matter how big or small!
Take A Sign
Lawn and window signs take up a small amount of space, and have a massive impact!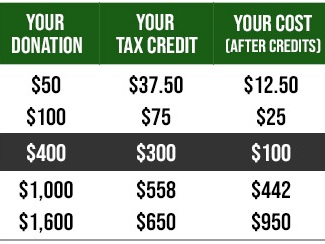 Your donations give Mike a bigger voice.
If you believe in Mike's priorities and values - please donate.
Contributions of any amount up to $1,600 are allowed and appreciated!
Donations can be made online or by cheque
All contributions are income tax deductible.
Mike's Office will provide tax receipts (see image)
Online:
PayPal's secure payment processing service
By Cheque:
Made out to "Kitchener Centre EDA Greens". Send to or drop off at, 157 King St West, Kitchener, ON, N2G 1A7
Donors certify:
1. That they are either a Canadian citizen or a permanent resident of Canada.
2. That they are making this contribution with their own personal funds and not with a business account or on behalf of another person.
3. That no individual or organization will either partially or fully reimburse them.
Stay Connected
Sign up to receive updates about #Morrice2019.
We respect your privacy. Your email and postal code will only be used to provide updates on the Morrice 2019 campaign, and you can unsubscribe at any time.